Nr. 174 / 1993 - ongoing / United States


Street-Level Youth Media (Tele-Vecindario)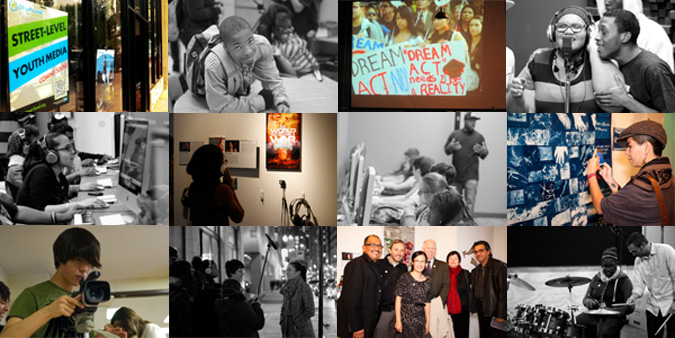 Initiator(s)
Paul Tereul, Iñigo Manglano-Ovalle and Tony Streit
Description
The project was a collaboration between two artists, a teacher and a group of teenagers from a West Town high school located in a predominantly low-income, Mexican, Puerto Rican, Central, and South American neighborhood. They created an installation presented during a block party, composed by forty videos, which documented the everyday life of people living in the area, like gangs and their families, and gentrification in order to encourage action around challenges faced by the community. The high level of participation to the event pushed the organisers to create a long-term program devoted to the media and technology literacy of young people. In 1995 Street-Level Youth Media become one of the first nonprofits in US to offer technology access and media arts training to urban youth.
Location
United States
Goals
«Using video and audio production, graphic design, digital photography, and the Internet, Street-Level youth address community issues, access advanced communication technology, and gain inclusion in our information-based society.»
Beneficial outcomes
«The original location was opened at the site where numerous gang lines converged; a number of projects created dialogues between rival gang members who had never spoken to one another.»

Maintained by
The center emerged from a collaborative project in the seminal 1992-93 Culture in Action: New Public Art in Chicago exhibition curated by Mary Jane Jacob at Sculpture Chicago.
Users
Iñigo Manglano-Ovalle, Paul Tereul and Tony Streit, artists, Inhabitants of West Town, teachers and teenagers.
Links
http://www.street-level.org/