Nr. 090 / 2001 / The Netherlands


Home Design Service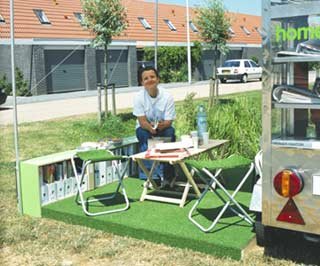 Initiator(s)
Apolonija Šušteršič
Description
The artist repurposed and adapted a mobile bagel selling cart - called Casco Mobile - in order to create a nomadic info point, whose function was to give free advice on interior design to the residents of Leidsche Rijn neighbourhood in Utrecht. The project provided a library with books, periodicals and catalogues available for visitors focused on interior design, domestic space and a housing development-information brochure about the neighbourhood development.
The project ended with a workshop on interior design addressed to the residents.
Location
The Netherlands
Goals
Home Design Service addresses the process between finished plans and finished buildings. The situation in between is temporary and changeable. Once the buildings are completed, the occupants move in and the decorating and furnishing begins with the interior becoming a reflection of individual and personal ideas about living.
Beneficial outcomes
To give users access to information and knowledge on Home Design
Maintained by
Casco Utrecht and the artist
Links
http://www.cascoprojects.org/?show=&entryid=213