March 24, 2016
Arte Útil at Museum of Modern Art in Warsaw
A selection of projects from the Arte Útil archive is featured in 'Making Use: Life in Postartistic Times' from Feb. 19 to May 1.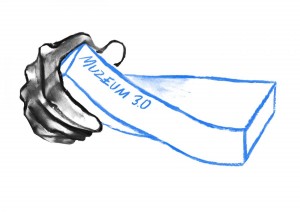 Making Use: Life in Postartistic Times includes an evolving exhibition, workspace, and a public program. The main issue raised during the project is the interweaving of art and other spheres of life. Art is "migrating" (see: CROSS-POLINATION) from museums and galleries into urban survival strategies, street protests, subversive advertising, campaigns to abolish bank debt, experiments with fog-catchers, critical cartography, agricultural cooperatives, alternative tourism, and the curricula of flying universities.
For the duration of the project, the museum will function as an information hub on practices with a high COEFFICIENT OF ART, shifting the center of gravity from the work of art to reports from other fields of life. The exhibition will develop over time, reaching its ultimate form on the closing date, May 1, 2016. The rest of the first floor of the Emilia building will be devoted to other functions: a workshop, an open office, an auditorium, a kitchen compound, and a relaxation zone.
One of the key questions raised at the exhibition is the issue of the status and competence of persons dabbling in this sort of post-art ­– in a world where the individual's obligations to the community are being redefined and new global challenges arise. Must the work of artists be materialized in the form of works of art? What role can be performed by museums when art is radiating toward non-artistic circles, and, in so doing, loses the characteristics that have previously defined it as art?
Making Use: Life in Postartistic Times draws from Stephen Wright's book Toward a Lexicon of Usership (2013). Wright calls for a critical confrontation with "conceptual edifices" which institutionalized art has been based on since the nineteenth century. He criticizes the replication of existing systems, standards of ownership, spectatorship, objecthood, and authorship. Instead, he postulates making use of art, and looks for a new formula in a MUSEUM 3.0. Another touchstone is the theoretical texts of Jerzy Ludwiński, particularly his reflections on the POSTARTISTIC AGE. In 1971 Ludwiński wrote: "Perhaps, even today, we do not deal with art. We might have overlooked the moment when it transformed itself into something else, something which we cannot yet name. It is certain, however, that what we deal with offers greater possibilities."
***
Making Use: Life in Postartistic Times is an exhibition and public program featuring more than one hundred participants.
Curators: Sebastian Cichocki, Kuba Szreder
Curatorial team, production: Meagan Down, Szymon Maliborski, Szymon Żydek
Shadow curator: Stephen Wright
Project assistant: Daniel Woźniak
Graphic design, drawings: Krzysztof Pyda
Making Use website: Michał Szota
Text editing: Bean Gilsdorf, Anna Roszman
Architectural design: Maciej Siuda in cooperation with Agnieszka Wach, Katarzyna Dąbkowska, Rodrigo Garcia González
Technical team: Jakub Antosz, Szymon Ignatowicz, Marcin Szubiak, Rafał Żółtaszek
Project manager: Nina Gałuszka