September 13, 2017
Office of Useful Art at SALT Galata
Initiated by SALT Galata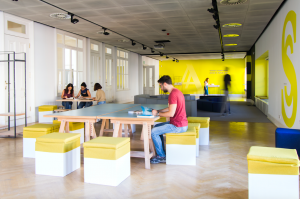 Museums are in a severe crisis, caused mostly by a delayed reality check on whether their missions from the past respond to the necessities of now. They spent tremendous effort for corporatization and failed to foresee that this would only reinforce their inherent unidirectional communication with the world. They are imposed to grow with expansionist agendas, and to become more inclusive with the pressure of ongoing social movements. Growth is attained by tending to popular interests and tools that define the museum as a space of experience, whereas inclusion is achieved with short term invitations based on the museum's own needs and wants. Fueled by corporatization, the current management models obstruct changes prompted by users desiring engagements beyond those offered and controlled by the museum.
Alarmed by this crisis, SALT has always maintained that content is far more valuable than experience. The institution has been encouraged to remain open both to users and uses outside of its designated interests. A drive towards using resources commonly has materialized thanks to individuals, collectives, universities, and NGOs seeking a space of production in the city. In the past six years, SALT has accordingly gained users who range from persons to constituents. The learning processes initiated through SALT's research and programs have become reciprocal with constituents' contributions from diverse fields of knowledge. Outputs of collaborations mostly on cinema, performance, photography, literature and food, along with discussions on concerns about urban standards of living, have updated SALT's curriculum.
Opening in September on the third floor of SALT Galata, the Office of Useful Art focuses on questioning the challenges the museums are currently facing, and also on expanding the potential of co-learning among the institution and the users. The Office is established in partnership with the Asociación de Arte Útil, a platform of international cultural institutions and universities. Centered around the notion of "arte útil," which roughly translates to "useful art," the platform suggests that art can be a tool or a device. Arte Útil investigates new methods and social formations generated by individuals, initiatives or communities to deal with issues that were once the domain of the state. The online archive, a collection of case studies from various geographies that responds to this notion, is presented and activated through a series of programs including workshops, exhibitions, and seminars.
The Office of Useful Art will provide new case studies from Turkey and the surrounding regions for the online archive. These new examples will be discussed along with a selection from the archive through public programs. The two-year period will foster further collaborations with users and constituents. The Office of Useful Art will maintain the aim of initiating a group of "professional users" who go beyond the disciplinary boundaries of artists and academics. Comprising presentations of case studies both in Turkish and English, and accommodating related programs, the office space will remain open for use outside of its curriculum.
More info here
Below you can find the public talks hosted by the Office.