October 20, 2014
Middlesbrough Institute of Modern Art
Initiated by Alistair Hudson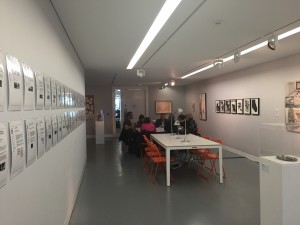 Under the new directorship of Alistair Hudson, co-director of the Asociación de Arte Útil, Middlesbrough Institute of Modern Art (MIMA) is forging a model for institutional change, implementing the principles of Arte Útil and Museum 3.0 to repurpose this key UK art institute as 'The Useful Museum'.
The institution is situated in a region facing severe economic uncertainty and cultural change, highlighted by the imminent closure of Europe's second largest steel works. MIMA is now the UK headquarters of the Asociación, with the Office taking a permanent position, occupying the first floor of the building, alongside the museum's administration.
The Office of Useful Art presents the Arte Útil archive as stimulus for initiating further projects in the town, whilst also being available as a free public space for meetings, educational work, community groups and constituencies.
MIMA is simultaneously driving forward with new Arte Útil projects. These include a permanent home for the 'Addams Dewey Gymnasium' with Pablo Helguera, New Boosbeck Industries and the New Linthorpe Pottery as social enterprises and the current project Localism – a user-generated exhibition of the region's history and culture.