September 27, 2017 - October 1, 2017
Does Art Have Users?
Initiated by Asociación de Arte Útil, SFMOMA and Yerba Buena Center for the Arts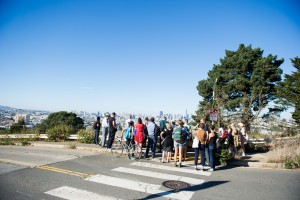 The second International Summit of the Asociación de Arte Útil (September 28–30, 2017) is part of the symposium 'Does Art Have Users?' presented by SFMOMA in partnership with Yerba Buena Center for the Arts and the Asociación.
September 28–30, 2017
Phyllis Wattis Theater, Koret Education Center at SFMOMA
Yerba Buena Center for the Arts
San Francisco, US
Does Art Have Users? is a symposium exploring art in terms of its use value — that is, whether and how art can be used as a tool — focusing on the roles that individuals and constituencies play in socially engaged artistic practices. From the platforms needed to support community-created artwork to the role of documentation and archives, participants will discuss the varied ways in which artists work with individuals and organizations at the intersection of art and activism to imagine new contributions to social, civic, and political life.
Bringing together the leading voices of the Arte Útil (Useful Art) movement, along with participants from related fields, the event incorporates the second international Arte Útil Summit. Focusing on specific needs and urgent questions animating Bay Area neighborhoods, the symposium includes panel discussions, presentations, and workshops that explore art and its potential usership from a wide variety of viewpoints. Topics include immigration, youth development policy, and civic knowledge sharing.
Program
Wednesday, September 27, 2017
Mission District Field Trip: Walking Tour with the Anti-Eviction Mapping Project – Fractured Atlas: A Mission Neighborhood Walk with the Anti-Eviction Mapping Project
Meeting place: Bernal Heights Park Parking Lot, 3450 Folsom Street
4–5:30 p.m.
The Anti-Eviction Mapping Project is a data-visualization, data analysis, and storytelling collective documenting the dispossession of San Francisco Bay Area residents amid gentrifying landscapes. Through digital maps, oral history work, film, murals, and community events, the project renders connections between the nodes and effects of new entanglements of global capital, real estate, high technology, and political economy. Join us for a walking tour of the Mission district that studies the displacement of people, and the complex social worlds of the neighborhood that are created as spaces become desirable to a new wave of citizens and consumers.
Thursday, September 28, 2017
Panel: Can We Teach Artists to Be Useful?
Yerba Buena Center for the Arts 
10:30 a.m.–noon
Participants: Tania Bruguera, Stephen Wright, Oriol Fontdevila; moderated by Lucia Sanroman
Artist Bruguera is joined by Wright and Fontdevila for an analysis of the effectiveness of an alternative pedagogical model. Moderated by Sanroman, the conversation addresses and evaluates the eight-week-long curriculum of the Escuela de Arte Útil. The school is a commission from Bruguera for the exhibition Talking to Power / Hablándole al Poder, realized in collaboration with the Asociación de Arte Útil; the San Francisco Art Institute; California College of the Arts; the University of California, Berkeley; San Francisco State University; and YBCA Fellows.
Panel: What Can We Learn about Art's Social Uses?
Yerba Buena Center for the Arts 
12:30–2 p.m.
Participants: students of Escuela de Arte Útil; moderated by Alessandra Saviotti
The session focuses on the presentation of students' prototypes of Arte Útilprojects realized as part of Escuela de Arte Útil. Students considered topics such as institutional self-criticism, active hyperrealism, a-legality, reforming capital, sustainable outcomes, and usership, as well as intersections with other disciplines and modes of creative collaboration.
Panel: What Happens at the Intersection of Art and Data?
SFMOMA, Phyllis Wattis Theater 
4–5:30 p.m.
Participants: Josette Melchor, Burak Arikan, Carla Wozjcuk; moderated by Jon Christensen
This session unpacks ways that artists find creative uses for data and technology to support strategies for social change in the Bay Area and beyond. With speakers whose work encompasses art, activism, academia, and community organizing, the panel will explore how ideas and practices from these different fields intersect with and challenge ideas about design and technology in the context of attempts to improve civic life.
Panel: What Does a Useful Museum Look Like?
SFMOMA, Phyllis Wattis Theater 
6–7:30 p.m.
Participants: Jeanne van Heeswijk, Alistair Hudson, Laura Raicovich; moderated by Dominic Willsdon
This panel will explore new approaches to the role and value of art institutions, looking in particular at ways that museums might borrow an idea of usership from libraries, to become more of a resource than an attraction. Speakers will discuss how art museums can build coalitions of different organizations with a public mission to serve a wider range of constituents, and how museums can adapt to accommodate and support artists who want to work in the context of civic engagement.
Opening: Public Knowledge Library
SFMOMA, Koret Education Center 
7:30–9 p.m.
Join us for the opening of the newest branch of the San Francisco Public Library (SFPL) on the museum's second floor. Through winter 2019 the Koret Education Center will be transformed into a pop-up branch known as the Public KnowledgeLibrary, featuring a reference collection of books and newspapers focused on art, activism, cities, culture, education, and technology. The library also will feature artist installations, curated displays about the history of SFPL, and a special children's collection. For more information on the Public Knowledgeinitiative, please visit publicknowledge.sfmoma.org.
Friday, September 29, 2017
Panel: How Do Artists Create More Inclusive Systems of Power?
SFMOMA, Phyllis Wattis Theater 
10:30 a.m.–noon
Participants: Jeanne van Heeswijk, Tania Bruguera, Brett Cook; moderated by Shannon Jackson
How do artists act as instigators of more inclusive systems? How do they build a power base? What is the impact of artists' work in the communities where they are working? Speakers will discuss how constituencies become the cocreators of their projects, and how such collaborations can help to drive social change. How does the concept of users apply if members of the public are not simply the audience for this work but also the cocreators?
Panel: What Can Public Knowledge Be?
SFMOMA, Phyllis Wattis Theater 
1–2:30 p.m.
Participants: Bik van Der Pol, Minerva Cuevas, Stephanie Syjuco; moderated by Deena Chalabi
Artists from SFMOMA's new Public Knowledge initiative will explore their prior work and the ideas behind—and stakes involved in—their evolving projects in San Francisco. What kinds of public knowledge can art provide or create that other fields cannot? How can art created in response to the forms and institutions of public knowledge, and in dialogue with communities, strengthen the fabric of civic life? How can these artistic projects respond to the cultural impact of rapid urban change?
Panel: How Can Libraries Incubate Contemporary Art?
SFMOMA, Phyllis Wattis Theater 
3–4:30 p.m.
Participants: Omar Berrada, Rick and Megan Prelinger, Jeff Gunderson; moderated by David Senior
At a time when artistic thinking has been so informed by the idea of the archive, librarians and curators explore the ways in which a library model of "usership" might translate to the practicing and teaching of contemporary art. How might art and other cultural institutions be made more "useful" by thinking of themselves as visual libraries, and what is the role of information retrieval in artistic practices?
Panel + Performance: What Is the Sound of Your San Francisco?
San Francisco Public Library, Main Library, Koret Auditorium 
7–8:30 p.m.
Participants: Josh Kun, Mohamed Bilal, Thao Nguyen
Musicians: Idris Ackamor, Minna Choi, Marcus Shelby, Ahkeel Mestayer
As San Francisco continues to struggle with crises of gentrification, eviction, and extreme neighborhood change, what happens when music becomes a model for imagining a new city? Scholar, music critic, and artist Kun presents a conversation about and music from his Public Knowledge project, Hit Parade. Kun will share his early research into the sheet music collection of the San Francisco Public Library, and his work with community storytelling in San Francisco neighborhoods that resulted in open rehearsals with local musicians.
Saturday, September 30, 2017
Workshop: In Print/Imprint: Designing Political Print Pieces with Users in Mind
SFMOMA, Koret Education Center, Studio 2 
11 a.m.–1 p.m.
How can artists design a print piece for social action that considers the needs and interests of the end users? Modeled after artist Jessalyn Aaland's Guide for Youth Protestors from the Arte Útil archive, participants will conceptualize a politically oriented print piece that addresses an issue of concern to a particular user group, integrating the user's attributes into the design.
Workshop: Seeing Social Practice
SFMOMA, Koret Education Center, Studio 1 
11 a.m.–1 p.m.
Facilitators: Deborah Fisher, Brett Cook
How is experiential and participatory art represented? How does this work translate into visual media and institutional contexts? What is the role of research and evaluation in representing the value of socially engaged art? What are your goals and responsibilities when you represent a social or experiential project? Explore these questions and more in a workshop presented by Fisher, executive director of A Blade of Grass, in collaboration with artist and Blade of Grass board member Cook.
Roundtable: Can Art Be a Tool for Thinking in New Ways about Civic Life?
Yerba Buena Center for the Arts 
2–6 p.m.
Participants: Suzanne Lacy, Pilar Riano-Alcala, Chris Johnson, Patrisse Cullors, Bill Kelley Jr., Dominic Willsdon, Lucia Sanroman, and others
Lacy's work in Oakland, California, and Medellín, Colombia, in the 1990s advanced a model for the role of art in civic life. This roundtable begins by asking how we should remember and represent those projects, but it focuses primarily on the civic and social contexts that gave rise to them—youth culture and violence, race, media, public policies—and what is different today.
Part of SFMOMA's Phyllis Wattis Distinguished Lecture Series, as well as SFMOMA's Public Knowledge initiative, Does Art Have Users? is presented in partnership with the Asociación de Arte Útil and the Yerba Buena Center for the Arts and its exhibition Tania Bruguera: Talking to Power / Hablándole al Poder.
This event series is free; museum admission is not required. Seating for each event is available on a first-come, first-served basis.