July 1, 2015 - August 31, 2016
Broadcasting the archive
Initiated by Gemma Medina Estupiñan and Alessandra Saviotti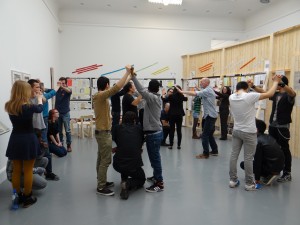 A year long project, Broadcasting the archive is an independent project to emancipate the usership around the Arte Útil archive.
The project aims to re-activate and mediate the Arte Útil's archive within and beyond the museum's context, developing a year touring programme of workshops and discussions hosted by different organisations in the Netherlands and abroad. Archive cards, sound and video documents, interviews, guided tours through some projects, production of public events, activities, workshops, seminars and conferences will be the materials to activate and spread the archive. Our objective is to break the physical walls of the institution through a call for action, becoming a source of inspiration both for a specialized public as well as a non-trained contemporary art audience.
Every activity, program or project will be available in a digital format on the Arte Útil website in order to function as a pedagogical device for students, curators, artists, researchers, critics and the general public, too.
Based in a network of collaborations and institutions Broadcasting the archive will open up the archive to global analysis. The possibility to work with the archive independently and transforming its documentation in a digital format, allows the archive to be broadcast via the internet, going beyond institutional barriers and creating infinite possibilities for future collaboration, knowledge building, and the possibilities of highlighting Dutch art and social design practice.
Additionally, Broadcasting the archive attempts to emphasize the history of the city of Eindhoven, and The Netherlands making vital connections with the present.
In 1927, Philips presented its first radio-reception set improving the radio technology applied by the Italian scientist Guglielmo Marconi, used mainly as a wireless telegraph. The Radio Lamps developed by Philips made it possible to transmit clear, amplified signals: not only morse code but also spoken messages and music. NatLab researchers built the crystal-driven PCJJ, the first shortwave radio station in Europe with which radio broadcasts could transmit over long distances. The Netherlands used the radio to connect with its colonies and the world adopting Philips and Eindhoven as a platform. Now Broadcasting the archive seeks to re-purpose that history, connecting Eindhoven and The Netherlands with the world, using Internet and digital media to expand the Arte Útil archive as an "archive of the commons".
Information on the activities and programme of Broadcasting the Archive are available on the 'Posts' section of this website.
More info here
—-
The project is supported by the Mondriaan Fund and The Art of Impact – Special thanks to Tania Bruguera, Asociación de Arte Útil, Van Abbemuseum, Middlesbrough Institute of Modern Art (mima), Visible and Aleppo.