Nr. 367 / 2000 - ongoing / India


Water Pumps sites (Nalpar)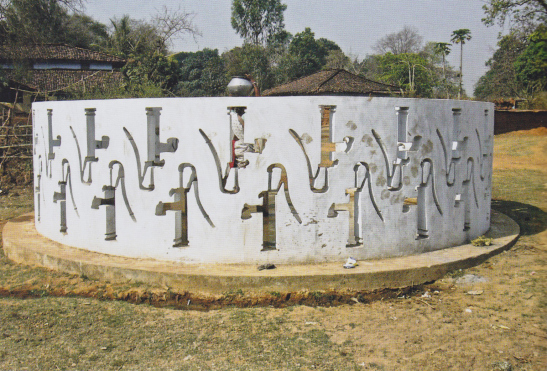 Initiator(s)
DIAA 'Dialogue Interactive Artists Association'
Description
The project consists of a water pump surrounded by a muddy pool in the village of Kopaweda. The pump emerged as a central meting point for women in the village and nexus of daily activity, essential to daily survival. After a lengthy dialogue with the users of the pump, a group of artists decided to restructure the pump sites for free. In 2001 the first water pump structure was built or Nalpar site, consisting of a smooth concrete pad, a more efficient pump design, an enclosure incorporating Adivasi cultural symbols, and a system of paved trenches to channel the water and collect it into smaller reservoirs. The sites operates on a more practical, ergonomic level and the construction was undertaken collaboratively.
Location
India
Goals
To provide an easy and healthy means to collect water; to claim these spaces as a site of dialogue and recreation, as well as work, among women, while men are prevented from entering the Nalpar.
Beneficial outcomes
In 2007, they had constructed 3 Napalr sites in Kopaweda, Bastar and 4 elsewhere in Kondagaon, Chhattisgarh State, Central India.
Maintained by
DIAA
Users
DIAA (Navjot Altaf, Rajkumar Korram, Shantibai and Gessuram Viswakarma), residents of Kopaweda and Kondangaon, women and children.
Links
http://www.dialoguebastar.com/nalpar.html