Nr. 409 / 2006 - ongoing / Kenia


Kibera Public Space Project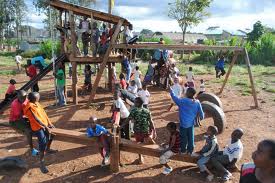 Initiator(s)
Kounkuey Design Initiative (KDL)
Description
Design interventions oriented to sustainably revitalize one of the largest informal settlements in Sub-Saharan Africa. The group of Harvard School of Design students partnered with residents, local design students, private sector experts and government officials to build a flood control system, a bridge to open a circulation route and a shade pavilion to accommodate more than 200 residents and their income-generating activities. Each enterprise contributes a percentage of their profits to site maintenance.

Location
Kenia
Goals
Reinforce sustainability: social, economical and environmental.
Beneficial outcomes
Productive public space, and income-generating activities. Several community-based groups have been created, and construction is ongoing.

Maintained by
Eco-Build Africa
Users
Kounkuey Design Initiative, Inhabitants of Kibera, Buro Happold, Knyan Architecture Firm, volunteers.
Links
http://www.kounkuey.org/