Nr. 116 / 2003 - 2004 / Germany, Austria


Free-Range Grain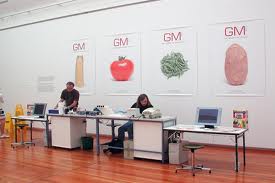 Initiator(s)
Critical Art Ensemble
Description
The project consisted of a portable and public lab which used molecular biology techniques to test food for the more common genetic modifications (GM). Users were invited to bring food to the gallery that they thought it could be suspect. The initiators tested the food over 72-hour period to see if users' suspicions were justified.
Location
Germany, Austria
Goals
To contribute to an idea of public science by focusing on issues such as food production that are of direct interest to people, and to make scientific initiatives more immediate and concrete.
Beneficial outcomes
To popularize scientific techniques the general public can use to test foods themselves, instead of relying on the potentially dubious labeling and testing provided by their governments and corporations.
Maintained by
Schirn Kunsthalle (Frankfurt); Esc Gallery (Graz)
Users
Critical Art Ensemble (Steve Kurtz, Steve Barnes, Dorian Burr, Beverly Schlee, and Hope Kurtz), Beatriz da Costa and Shyh-shiun Shyu, general European public who wanted to test their foods for markers indicating that they are genetically modified.
Links
http://critical-art.net/?p=79