September 17, 2019
Asociación de Arte Útil at the Jane Addams Hull-House Museum Chicago
Commissioned by the 2019 Chicago Architecture Biennial '…and other such stories', curated by Yeosomi Umolu, Speake Angiama and Paulo Tavares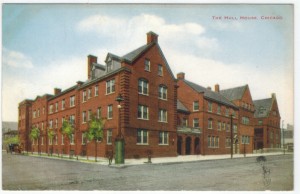 The Asociación de Arte Útil has been commissioned to present the Arte Útil Archive as part of the 2019 Chicago Architecture Biennial.
This Chicago iteration of the Arte Útil Archive is presented within the former library of the historic Hull-House, reactivating the room as a resource for local neighbourhood groups, artists and activists to exchange knowledge that may prove useful in the local context.
For the Asociación, Chicago is a pertinent location to present the archive, given that it has for a long time been a center for artists working in the social and political sphere. Hull House, in particular, can be cited as a reason for this, and is itself a case study the Arte Útil Archive for its longstanding commitment to a range of social issues including public health and education, free speech, fair labor practices and immigrants' rights, among others.
The Hull-House building also is an example of architecture as form of useful art, as it provides the space for the activation of Hull-House's mission. Alongside the presentation of relevant international case studies, the Asociación has organized an educational program with Jane Addams Hull-House Museum discussing how to use the archive to enhance ongoing community work in Chicago. Highlights include:
Thursday 19 September
Opening of the AU Archive at Hull-House as part of the Jane Addams Birthday Bash
Friday 20 September
A Short introduction to Arte Útil Archive with Alistair Hudson
Friday 27 September
International workshop on using the archive via Skype with Gemma Medina, Alessandra Saviotti and Alistair Hudson.
Friday 18 October
Public Discussion: Archiving Social Justice in Chicago
Monday 18 November
Workshop: Arte Util Case Studies from the Chicago Area
Tuesday 19 November
Seminar: The Coefficient of Art, Architecture and Mathematics
Tuesday 10 December
Jane Addams Day – Making Lineages Visible
—
For Hull-House the case studies have been selected for their relevance to Chicago, the ongoing work of Hull-House and the context of the Chicago Architecture Biennial. The index cards on show direct users to further information and resources, whilst the Hull-House team work with the Asociación to facilitate a conversation to develop local projects and the wider AU network.
Arte Útil at Hull House coincides with the Asociación opening a new permanent Office of Useful Art at the Whitworth art gallery at the University of Manchester, England – a city that simultaneously developed its own Settlement project in correspondence with Hull-House at the end of the 19th Century. As part of the wider social imperative of art in these contexts, the Whitworth is developing new projects that build upon historical models such as Hull-House to create new city structures create cultural institutions that work usefully for all members of society. The Asociación is happy to hear from those interested in developing an international network around this purpose.
—
For more information go to the CAB or Hull House websites, info@arte-util.org and follow the postings on www.arte-util.org