Nr. 578 / 2015-2017 / The Netherlands
Unconfortable Dinner
A pop up community restaurant that challenges you to activate means of cooperation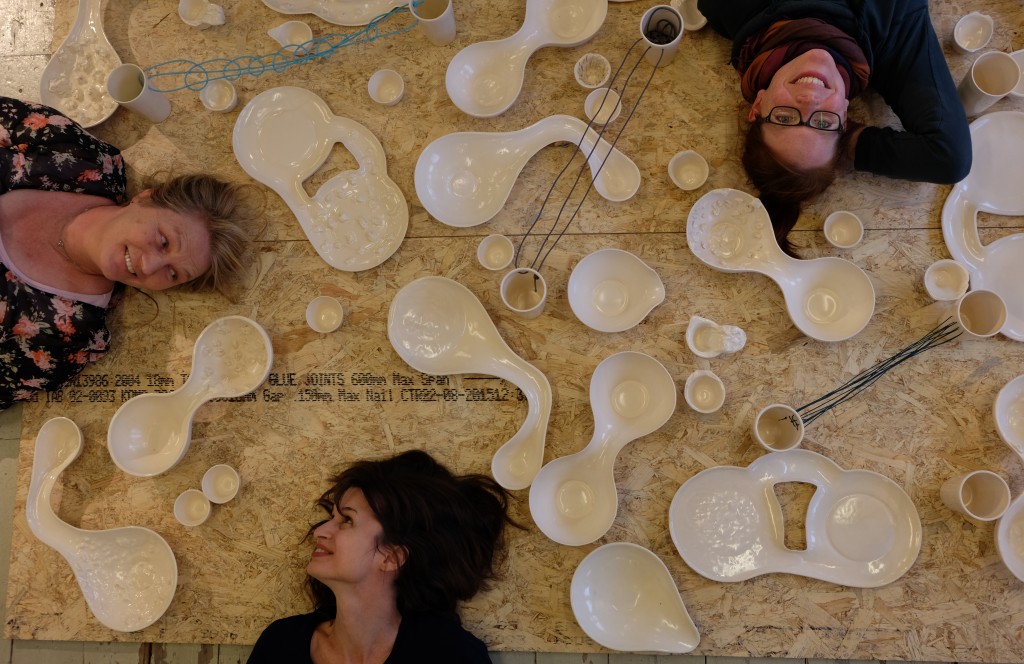 Initiator(s)
Bianca van Rooij, Marianne Slegers, Aafke Dohmen, Esther van de Graaff, and a large group of volunteers from the neighbourhood.
Description
The Ongemakkelijk Diner is a pop-up performative restaurant at Drents Dorp district in Eindhoven. It is a depressed area which was traditionally inhabited by former Philips factory workers and their families, located next to historical industrial complex Strip-S. During the last decade, Strip-S has been renovated and transformed into a leisure quarter focused on design with high-rent apartments and restaurants, renowned festivals and events. The project began with the collaboration of artists, designers and a group of neighbours to create and produce an awkward dinner set to be part of the Dutch Design Week. It soon evolved into a performative evening programme conceived as a restaurant business. The group invited and challenged clients of the restaurant to see things differently, to communicate creatively and to let go of control. Exciting, provocative, funny and mostly uncomfortable interactions during the dinner pushed all the guests to get involved, guided by a quirky and eccentric staff.
Location
The Netherlands
Goals
The idea focused on encouraging the connection between the residents of the area, preventing the increasing isolation and the sense of being outsiders in Strip-S. Mirroring their own process as a group, it was intended to share the taste of collaboration, generating an experience that challenges clients to communicate and cooperate. Furthermore, It was aimed to transform the negative narratives around Drents Dorp and imagine strategies to deal with gentrification, benefiting from the economic development around strijp-s.
Beneficial outcomes
The participants learnt professional skills in design and ceramics and received drama-performance lessons to construct their characters as the quirky staff. The pop-up restaurant worked full-booked for two years regularly and on special occasions by reservations and was highlighted in different local newspapers and media. The revenues were used for new projects for Drents Dorp. It was hosted twice at the Van Abbemuseum.
Maintained by
CKE (Centrum voor de Kunsten Eindhoven), Woonbedrijf, Members of the team of Ongemakkelijk Diner
Users
Esther van de Graaf, Bianca van Rooij, Wikke Peters, Bregje van Berkel, Marion Wesseling, Erco Gastelaar, Annet Nooijen, Aafke Dohmen, Lise Alix, Joukje Steige, Marloes Kursten, Nadine Roeleveld, Ria van der Meijden, Ilse van den Berg, Marianne Slegers, Doremieke van Loosdregt, Leo Jansen, Ingrid Broer Grassere, Francien van Breemen, Ria van der Meijden, Tonnie and Hennie, a large group of volunteers from the neighbourhood, clients of the restaurant.
Links
https://www.woonbedrijf.com/buurtinfo/buurtzaken/het-ongemakkelijk-diner-in-drents-dorp
https://www.facebook.com/hetongemakkelijkdiner/